Losing hair is an inevitable part of aging. It hardly seems fair but men are known to be more susceptible to hair loss at some point in their lives. Some start seeing clumps gathering near the shower drain when they reach their 40s. But for some unlucky few, hair loss can start happening even in their mid-20s. A lot of products have been developed to answer this dilemma; the most effective and cost-efficient of all is Low Light Laser Hair Treatment.
In the past, four types of treatments were used to combat hair loss: Low Level Laser Light, Galvanic (electric currents) Treatments, Live Enzyme Cleanser, and DHT (Dihydrotestosterone) Inhibitors. Though all these methods yield promising results, they can be time-consuming, not to mention money-consuming.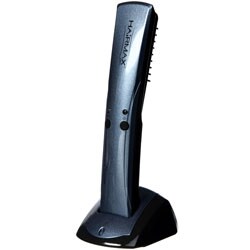 Also known as Low Level Laser Treatment (LLLT), it is a hair loss treatment method mostly used in restoration clinics and by dermatologists. It uses low level laser light energy to increase circulation and blood flow around the hair follicles to nourish them.
Laser hair therapy has been approved by the FDA as a safe procedure that does not pose any side effects on the patient. It is a non-invasive, non-medical treatment that promises to improve hair thickness and quality.
Most patients who have undergone LLLT have seen significant results. Low Light Laser Hair Therapy helps slow down hair shedding rate, dramatically thickens and in some cases, re-grows lost hair.
Does it work for everyone?
LLLT must be started early, before the follicles completely die out. Once the follicles are gone, even laser hair therapy could no longer revive them. This method is best used by patients who have just started to notice hair loss.
What LLLT products are available in the market?
Again, hair loss treatment can be pretty expensive. Trips to restoration clinics cost a fortune and it would take a few trips to really achieve a full head of hair. Laser hair brushes are one of the most recent innovations to combat the hair loss issue from the comfort and privacy of your own home.
Here are some laser hair brushes that are fast gaining popularity:
Hairmax LaserComb - This high-end product is the only Laser Phototherapy Device to be given clearance to market by the FDA. Its various technologies promote hair re-growth in both males and females with certain classes of androgenetic alopecia. It is one of the most expensive products in the market, being priced at around $350.
Lasertron Hair Rejuvenation Kit – Priced at around $165, this product promises desired results in just 12-16 weeks of usage. It comes with a pre-treatment cleanser and a treatment solution which inhibits DHT (Dihydrotestosterone), a major culprit in hair loss. The Lasertron Hair Rejuvenation Kit is one popular hair treatment technology that comes at an affordable price.
Laser Comb massager – This hand-held brush kit uses infrared low level cool laser light to activate hair growth. It has been proven to control hair loss for both men and women of all ages. It promises to improve the condition, quality and overall cosmetic appearance of hair. It is sold at approximately $120.
Low Light Laser Hair Therapy is gaining acceptance from the balding population in America. As one successful patient quips, "I've tried all sorts of treatments. Never have I encountered a method as rewarding and cost-effective as laser hair therapy. Now I don't have to worry about people noticing that bald spot on top of my head!"